The conference was closed on Friday, 11 June 2021.
Thank you for your participation!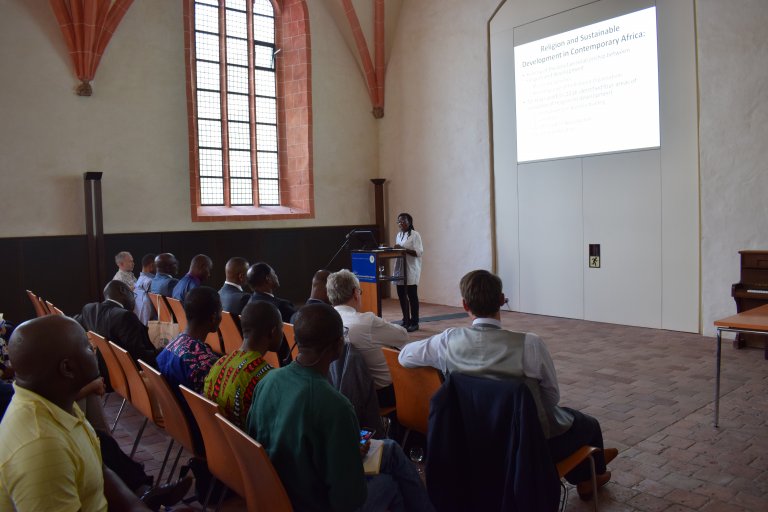 The conference discussed the path of the emerging research field on religion and sustainable development, which gained momentum with the UN 2030 Development Agenda and its Sustainable Development Goals. The aim of the conference was to discuss state of the art research, take stock of the field and to identify sub-fields requiring further attention. The conference seeked to reflect on the modes of knowledge production in this transdisciplinary field shaped by scholars, practitioners, policymakers and religious communities.
Moving forward, we will seize the opportunity in 2021 – still nine years from reaching the closing point of the Agenda 2030 – to look back on how religious communities have been included in reaching the goals for 2030 and to look towards and beyond the end of the 2030 Agenda for Sustainable Development. What will be the role of religious communities for sustainable development in the future? Will the 'religious turn' in development policy and cooperation last beyond 2030? Taking the impact of religious communities on sustainable development seriously, how would a new development agenda need to be shaped to reflect this impact?
The conference was transdisciplinary. It seeked to bring together scholars from various disciplines (inter alia theology, religious studies, development studies, anthropology, economics, politics, sociology). Qualitative and quantitative approaches were welcome; all contributions were expected to be open to inter- or transdisciplinary conversation. Moreover, the conference seeked to facilitate mutual dialogue between academia, policy and practice.
Part of the conference was the annual "Lecture Series on African Independent and Pentecostal Approaches to Theology and Development". Three high profile African church leaders held keynote lectures in the evenings of the conference days.
Share
Folgender Link wurde Ihrer Zwischenablage hinzugefügt. Sie können diesen jetzt nutzen, um ihn in Ihren Netzwerken zu teilen.
Full Programme of the Conference
Parallel Sessions Timetable